Wedding Photography
var _gaq = _gaq || []; _gaq.push(['_setAccount', 'UA-31269707-1']); _gaq.push(['_trackPageview']);
(function() { var ga = document.createElement('script'); ga.type = 'text/javascript'; ga.async = true; ga.src = ('https:' == document.location.protocol ? 'https://ssl' : 'http://www') + '.google-analytics.com/ga.js'; var s = document.getElementsByTagName('script')[0]; s.parentNode.insertBefore(ga, s); })();

The photographs taken on your wedding day will be with you forever and it is worth investing time in choosing the best photographer for yourselves. I have an easy going and thorough manner that couples have been overjoyed with.
I have been passionate about photography for over 20 years, capturing couples weddings in the West London areas including some magnificent venues such as Hampton Court and Syon House. I have been in awe myself of beautiful country mansions to historic courtyard premises in the heart of London. I have been honoured to record for posterity a few celebrities and some royalty as well.
With my experience I can advise on the best way to produce endearing and natural pictures. With discussions with you, we can plan ahead so that the taking of photographs only adds to the day, not detracts from it. We can get to know each other so that, between us, we can produce unique and personal images. My experience has taught me to be fully prepared for all foreseeable eventualities, so I have backup equipment, full indemnity insurance and waterproofs!
Before the day
I will meet up with you if you are interested in my photography and then, if you book my services, I will see you both again nearer the wedding to discuss the details of the day. I will visit and attend weddings up to 50 from London.
The day itself
I will start the day by taking the brides last moments of her preparations and then go on to the wedding venue and then record the fun and ceremony as the day unfolds. I will record the momentous and light moments equally and remain with you until the beginning of the meal or until late in to the evening.
My approach
My style is relaxed and so I will photograph what you would like me to, having discussed your requirements beforehand. I will take many photos in reportage or casual format but also a few more formal ones such as a large family group as in my experience it is very much appreciated.
After the Day
Within 2 weeks, you will be sent proofs (or examples) of all the images and have the opportunity for you and your guests to view them on a private website.
Wedding Packages

Full /The Jitters and Dad Dancing
Covering the last minutes of the bride's preparations right up until the dancing begins. A full-resolution CD of at least 300 fully edited images. Make as many copies and prints as you like. A stunning wedding book of around 30 pictures, chosen by you.
Price £1095 with album (£875 without album)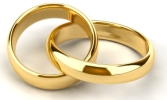 Daytime coverage/The big stuff
Pre-wedding preparations, on to the ceremony and reception venues up to when you sit down for the meal. A full-resolution CD of at least 200 fully edited images is provided.
Price £995 with album (£795 without album)

Midweek/ 'A working day'
For midweek weddings, benefit from all of the above and save some money in to the bargain.
Price £100 reduction on above prices.