November 16, 2012
A week of Nursery School pictures! Mostly little darlings but I need some adult conversation now! I'm expecting a delivery of a beautiful looking Italian wedding album today from the Mario Acerboni collection. Its taken 3 weeks to be delivered due to its Italian origins but they are always worth the wait. (more…)
November 6, 2012
Wedding Photography
 I'll let you know  about many of the places I've had the pleasure of photographing but one of my favourites is Orleans House Gallery in Twickenham. I'm often asked that out of all the different weddings I've been to, what are my favourites? The Gallery is like a secret garden as it is neither Marble Hill Park or one of the public gardens on the river. Its nestled behind Orleans School in Richmond Road and accessed by taking the road that goes alongside the main park.
There are wild areas but then a landscaped lawn rises up to a path that surrounds the Octagon. It is a beautiful intimate room with glass covering most of the double height ceiling. With so much light, photography is a real joy as none or very little flash is necessary. The reception can be held on the terrace or path outside and guests can explore the quiet park.
I'll post pictures soon, but in the meantime, here is one of there own.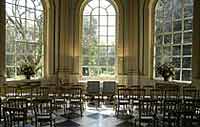 November 2, 2012
I'm really pleased to get my new photography web site online this week. Its got many more photographs and much more information. It's wanted I've wanted for  a long time now. . The children's gallery is new and the portrait gallery is much larger than before. I like the sleekness and I think that people will find it easy to look around. I'm looking forward to keeping it regularly updated and using Twitter and Facebook.
I'll keep people informed of what I'm doing such as the latest weddings I have the pleasure of photographing or any good photography venues I've discovered.