March 12, 2013
I'm going to hold a few competitions this spring and it's not just a Photography Competition for London wedding photographers. You'll have the chance to win fame and fortune plus print enlargements and even a free portrait session. This is the first Photography Competition
Here's a silly one to start.
What is it?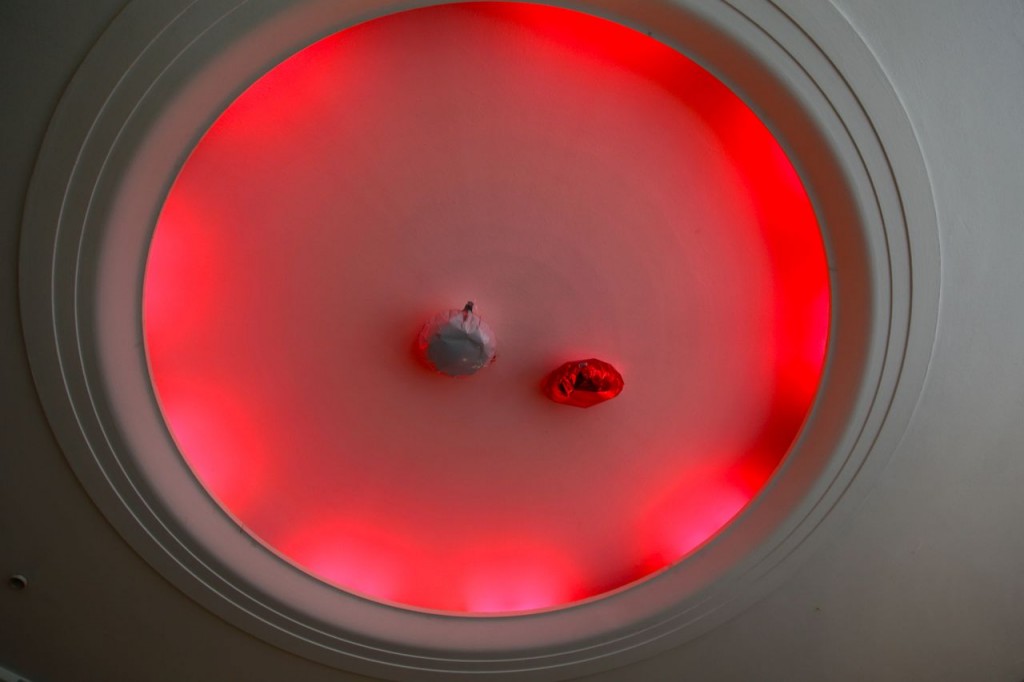 London wedding photographers guide;
For free advice on choosing, click on London wedding photographers.
You can phone me on 07976-237673 or email me on Contact Page.
See my galleries on Pinterest      – Follow me on twitter        -Follow me on Facebook 
I found these interesting points from a Brita Bevis;
COMPING AS A HOBBY
Not many people know it, but comping (the art of entering competitions as a hobby) has been around for a very long time. As far back as the 19th century, in fact. And now, at the start of a new millennium, it's still going strong, with comping having taken off in a big way on the world wide web. Is it really surprising though, when you discover that for an outlay of maybe just a few pence, you could end up the owner of a brand new shiny car, or even a house? And don't forget with a Photography Competition what you could win!
In 1983, when I entered my very first proper comp, I had a vague knowledge that some people had won big prizes from the odd article I'd read. But it was probably very different for you, as these days, hardly a week seems to go by without seeing a smiling winner beaming from the pages of a newspaper, or being interviewed on TV, on one of the many programmes that have publicised the hobby
March 4, 2013
A cupcake wedding cake
Mmmmn.. Just had my 5th  delicious cupcake in the space of a day! All the fault of Lisa's cupcakes at the Sweetest Feeling Cupcakes. I was unfortunate enough to be at the stand next to her at the Hotel Anoinettes Wedding Fair yesterday and couldn't resist devouring cake after cake after cake. Why do people eat traditional wedding cake when the could have a whole range of exciting and light flavours such as Lisa's?  A  cupcake wedding cake is superior.
 http://www.sweetestfeeling.co.uk/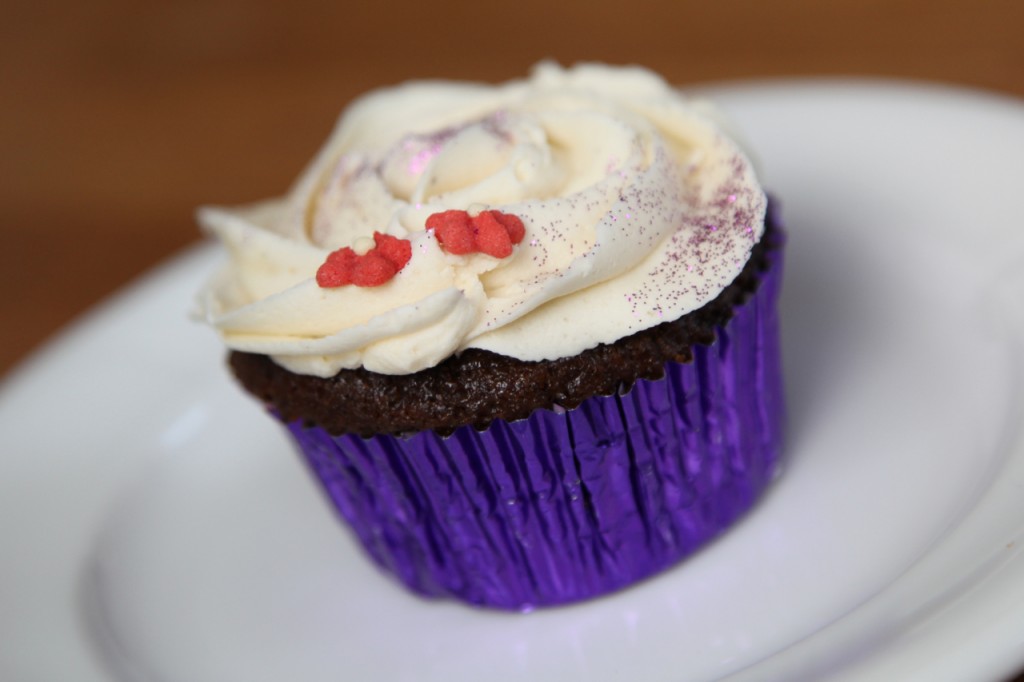 Which is best?
Many people disagree on the cupcake wedding cake versus cake issue, and I'm here to set the record straight. Cupcakes are, in fact, better than cake. I'm not 100% sure of the reason, but I am totally willing to put some ideas out there as to why this phenomena is accurate. All I know is, when someone offers me a slice of cake, I almost always say, "No thank you, I'm not really a cake person." But when someone bakes cupcakes, I'm stalking the table like a vulture.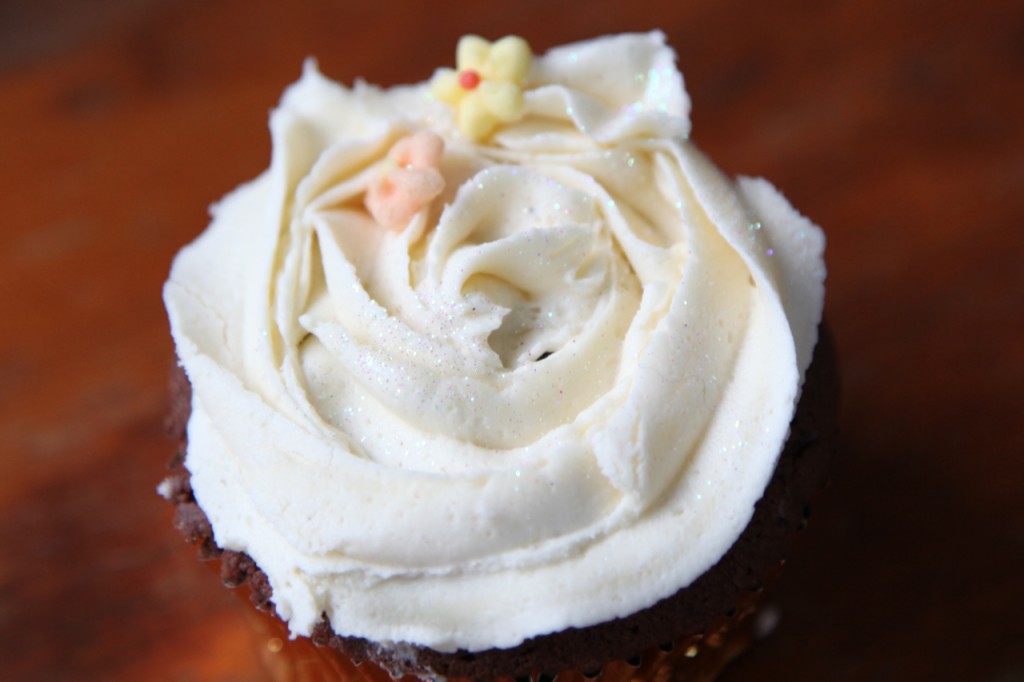 First off, a cupcake wedding cake is an ingenious invention for its size alone. In four bites or less, you have yourself a perfectly frosted, delicious little treat. It's filling, and yet you can eat a second or third should you choose to.
Besides this, there's no messy cutting or designated cutter for that matter. Dishes and forks don't even need to be used. All you really need is a napkin and an appetite.
A cupcake wedding cake are also much harder to mess up. I have made so many lopsided cakes that had to be fixed with frosting than I can remember. Cupcakes, however, rarely come out crooked or mess up – because they're so little!
What else? Unlike a cake, a cupcake wedding cake can be individually designed to have diverse and beautiful designs on them. If you want to be creative and use food due to turn your frosting different colors, then cupcakes become your blank canvas. If you try to put different colored or flavored frosting on a regular cake, chances are the average person would end up with a messy and odd-looking concoction.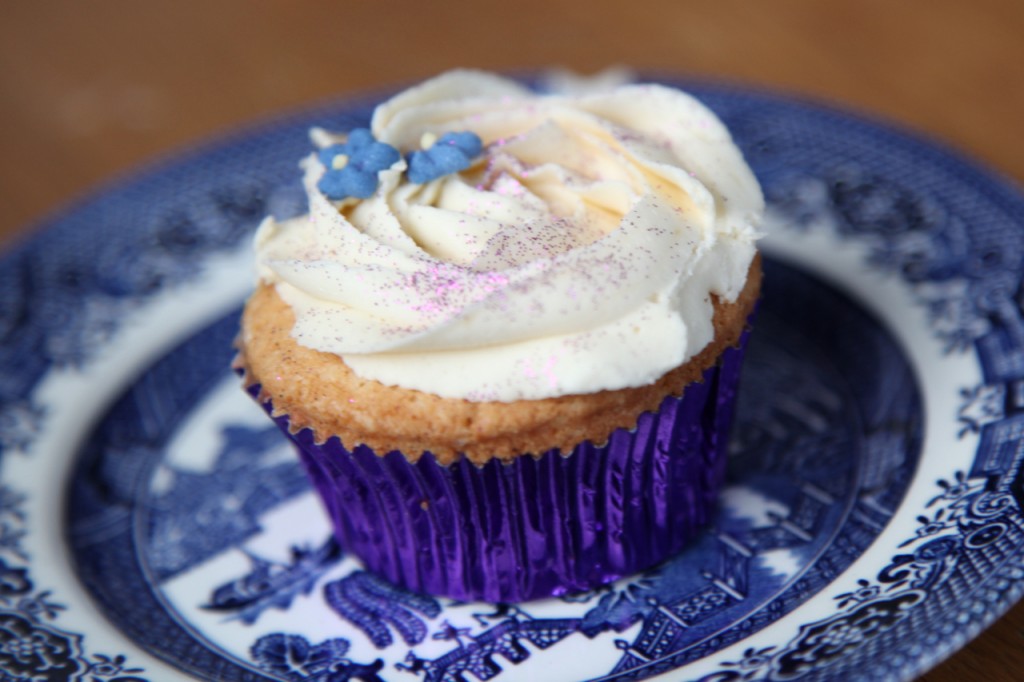 Speaking of flavors, how often do tastes differ in a family of 4, 5 or more? Everyone has their own favorite cupcake flavor and frosting flavor, and almost always goes for the same flavor combination.
February 18, 2013
Your Wedding Photographs are absolutely essential if you want an accurate record of the Day but how do you go about choosing your wedding photographer ? After the day has passed, the pictures will be treasured for generations, and the only commemoration of the thousands of hours and pounds spent to plan the most important day of your life. Other than the choice of a spouse, the choice of the wedding photographer is the most important wedding-related decision you will make, and is not to be taken lightly. Following these steps can help you select the best photographer to record your Big Day.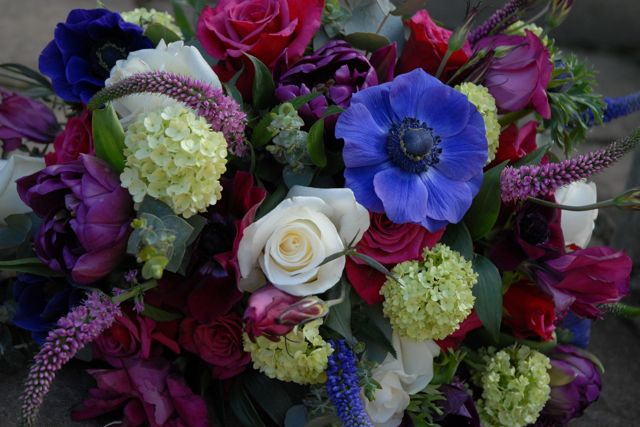 How long you would like the photographer
Perhaps you only need photographs of your ceremony so having just 1-3 hours of photography may be enough for you.  Other couples may prefer a complete package that may include a pre-wedding engagement sessions, bridal portraits and newlywed photos. This one of the dilemma's in choosing your wedding photographer.
What style would you like?
Would you look for a traditional approach with mostly posed images? Or do you prefer lots of candid shots in which the subject may not even know he or she is being photographed? Do you like the glamour approach of fashion photography? Would you prefer a photographer who combines all of these styles (a freestyle or eclectic wedding photographer)?
How many Photographs would you like
Some photographers may provide you with under 100 images to remember your wedding day by. Higher-end photographers often capture thousands of images (generally from 1,000 to 3,000) for you to keep forever.
What would you like to do with the images?
Do you plan to purchase just an album for yourself, or also pictures for your walls, prints to give to friends and family, or even put the images on stationery, invitations, calendars, mugs, T-shirts, and magnets? So be aware and enjoy choosing your wedding photographer
January 8, 2013
London Night Photography Tricks . These photographs reflect the energy of London in the wet. As a break from my portrait photography I explored the River and Trafalgar Square. There are few weddings this time of year and my school photography has finished for a few months so Night Photography  seemed a good option. Instead of wishing for the rain to go away, why not embrace it and use it to enhance your photography? Protect your camera and try and pick a clear night so that you can see as much as possible of the skyline. Check the weather on http://www.bbc.co.uk
London iconic photographs
The red London bus and the London Underground represent the city of London so I was determined to capture these icons. I used the Bulb setting, as mentioned in my last blog http://www.davidstubbs.co.uk/?p=826 where the shutter is open for several seconds. The time it was open in this busy part of London was around 6 seconds. Once you have found a good position wait for something interesting to walk or drive in to the scene. The women talking in this one add the essential human element to this city landscape.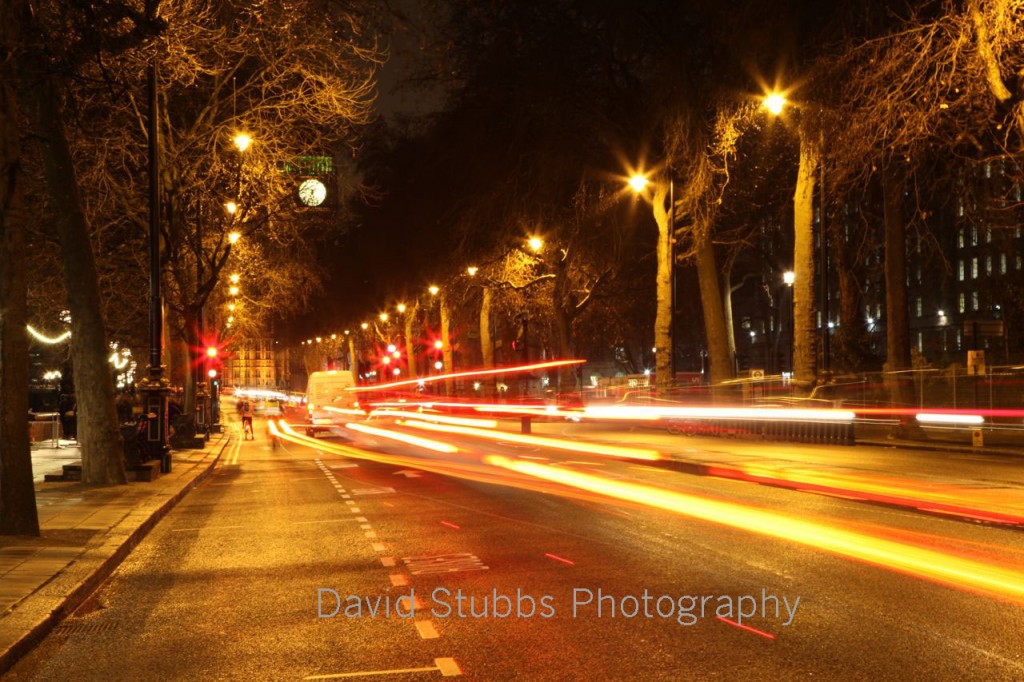 Embankment picture with Big Ben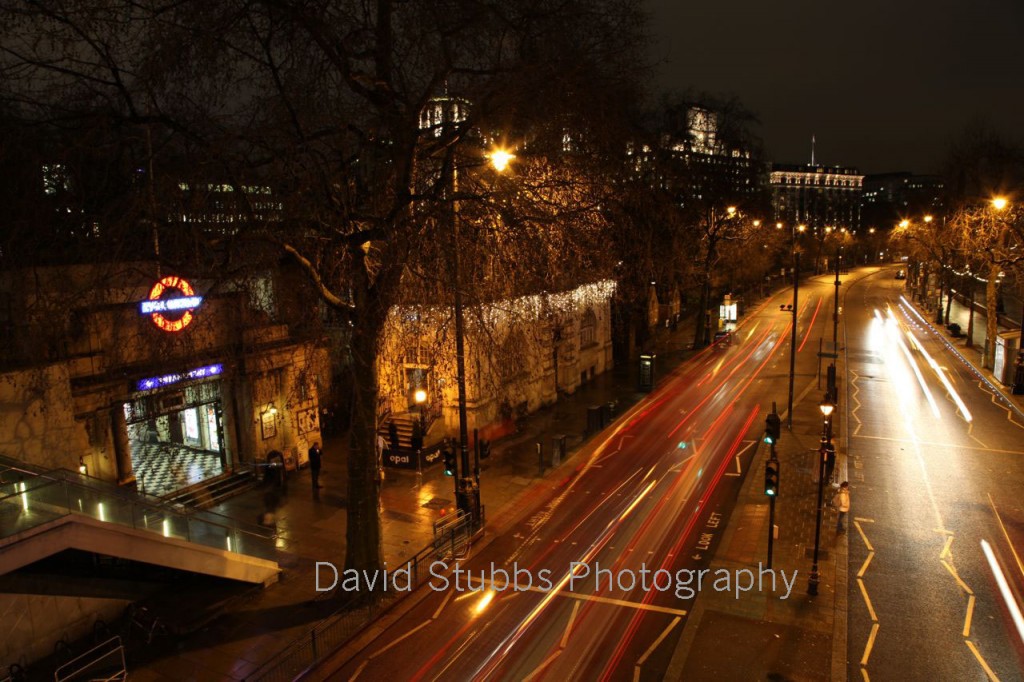 This long exposure shows the taillights of the busy London traffic on the Thames side road. I think the red light of the rear lights look more impressive than the white headlights of oncoming cars so kept to this side of the road.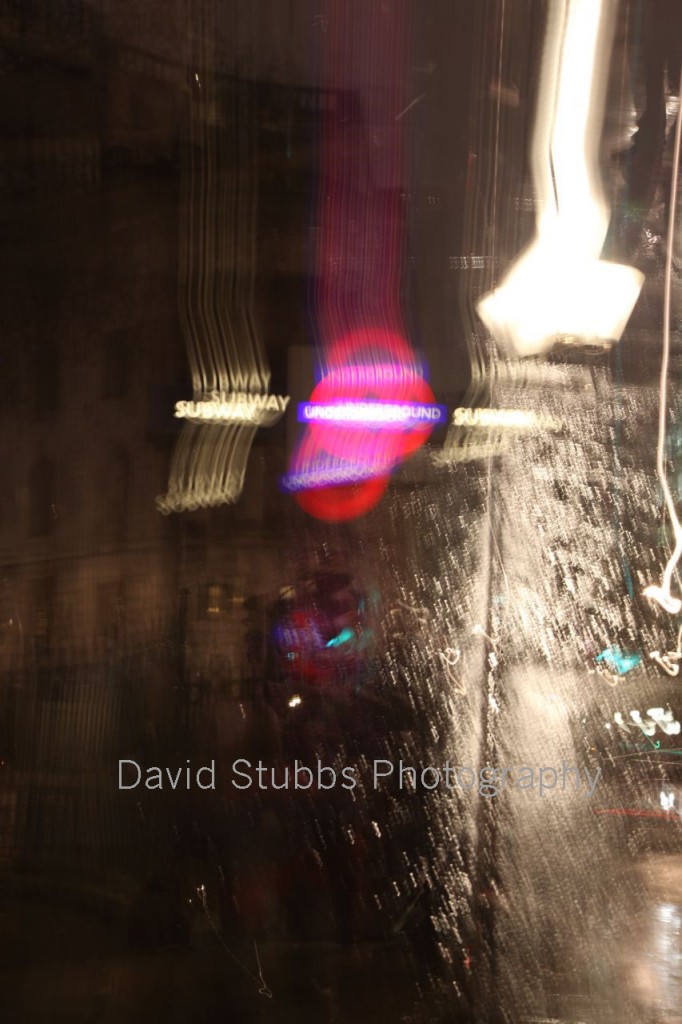 Reflections of Underground sign
I experimented with the fascinating Reflections and light on London's pavements and tried to capture more iconic London signs.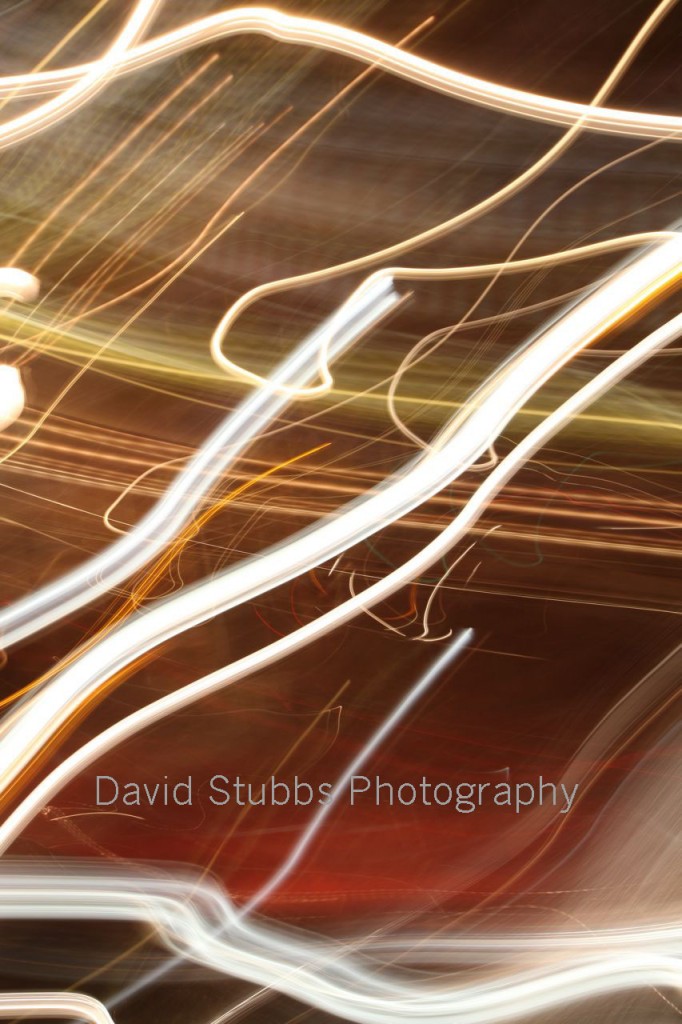 Light Streams Photography
Lights can be photographed by keeping the camera stationary and filming moving light or the camera can be moved to create the illusion of movement. I did the latter in this case.
For more advice, see http://www.davidstubbs.co.uk/blog/
December 16, 2012
Rob Brydon posed for a photograph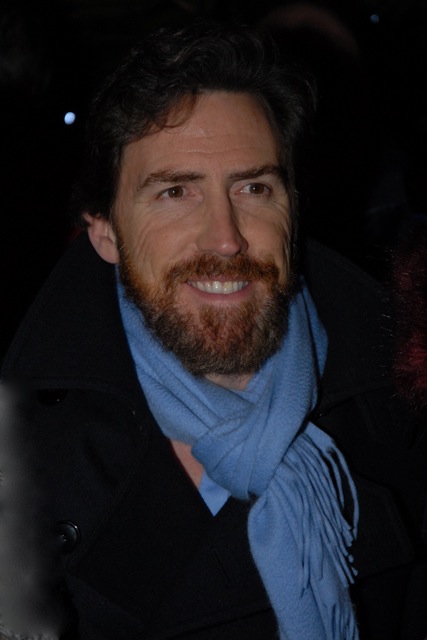 Rob Brydon turned on the Christmas Tree lights in my home town, Twickenham tonight, and I managed to get  close enough for this photograph . He was so friendly and posed for everyone that asked. Such a great character.
December 2, 2012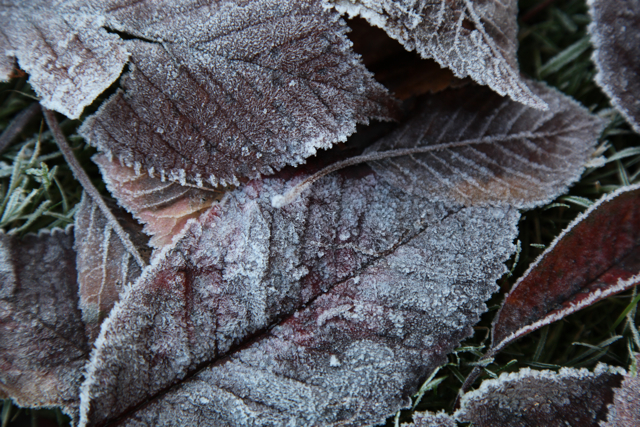 The light is fantastic today so I got up early and took the camera with me. It is chilly but the rewards of winter photography are well worth the effort. The light is very neutral and extremely low so avoid the camera being in direct line with the sun more than ever. I took these photographs mostly in the shade to prevent that happening. To show the intricate detail of the leaves I kept the aperture wide open and got as close and low as possible. I was trying out my new Cannon EOS 5D Mark II.  (more…)
November 2, 2012
I'm really pleased to get my new photography web site online this week. Its got many more photographs and much more information. It's wanted I've wanted for  a long time now. . The children's gallery is new and the portrait gallery is much larger than before. I like the sleekness and I think that people will find it easy to look around. I'm looking forward to keeping it regularly updated and using Twitter and Facebook.
I'll keep people informed of what I'm doing such as the latest weddings I have the pleasure of photographing or any good photography venues I've discovered.