December 10, 2012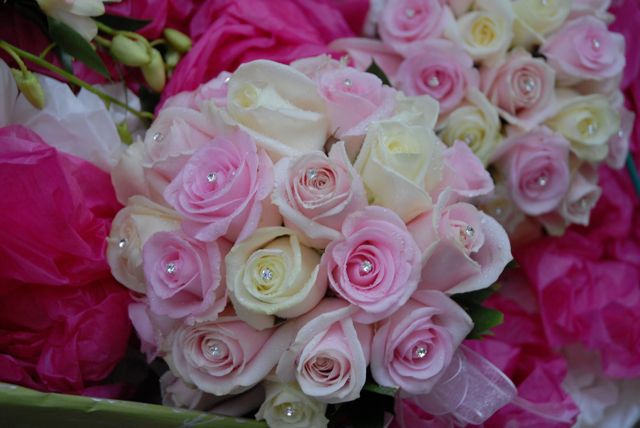 Roses are very popular but the soft shades make this an even bigger favourite
The flowers the bride chose for her wedding here were one of the best I ever seen, and really helped in the photography. Having decided on the colour scheme that your wedding is going to have then the flowers is the 2nd decision to be made after your dress and bridesmaids dresses have been chosen
The wedding flowers must compliment the dress so don't have over-powering colours or an un-gainly size. You'll be carrying the little treasure a long time so don't make it too heavy or unmanageable. Think of the auxiliary flowers; the bridesmaids, button holes and venue flowers. Will you be able to match the colours of  them with your own colours?
Having a mix of colours can help to combine them with the dress. In this case, white, is obviuosly the easiest colour. Two colours is usually the most to use that looks good, plus white or green. The diamonds in the centre add that something special. I've seen other additional items in a bouquet such as twigs (willow?) but I'm not sure if that works in the arms of a bride.
For inspiration, I have found  http://www.wildabout.co.uk very helpful. My nearest is in Twickenham.